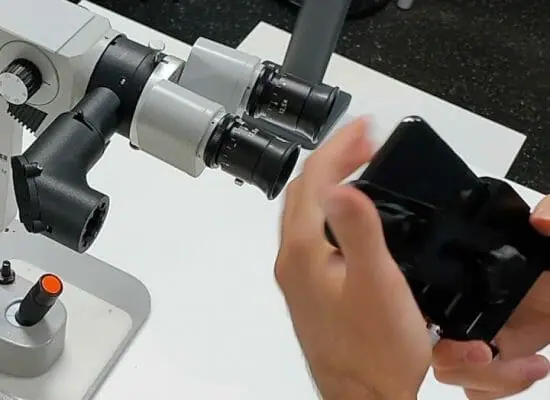 SlitREC: Imaging Compatible with any Slit-lamp
The SlitREC provides high quality medical imaging for any model of slit-lamp and any mobile phone.  It is ideal for a single user who works in a number of locations.

It can facilitate video recordings up to 8K  when connected with smartphone models that have this camera capability.
The SlitREC ClickNFit optical system comes with free access to the dedicated App, a unique mobile application for managing images and videos of microscopy procedures captured on smartphones.
Two Options for Imaging: MicroREC or SlitREC
MicroREC
MicroREC works through a beamsplitter, therefore it is not something you will generally move around.  It does however allow you to record and capture freely whilst you are examining or operating without any obstruction to the eyepieces.
The MicroREC is compatible with most slit-lamps and surgical microscopes.
SlitREC
The SlitREC works by recording over the eyepiece, it does not require any beamsplitter.  However, this means you will have to capture after you have examined the patient.  This is not such an issue as the adaptor can be 'flipped' over to remove it from the eyepiece and 'flipped' back for capturing.
The SlitREC is compatible with all slit-lamps and is not recommended for operating microscopes.
The SlitREC offers a great deal of versatility for the clinician who works in different locations.