Consultations
Steer Discussions or Just Click Play!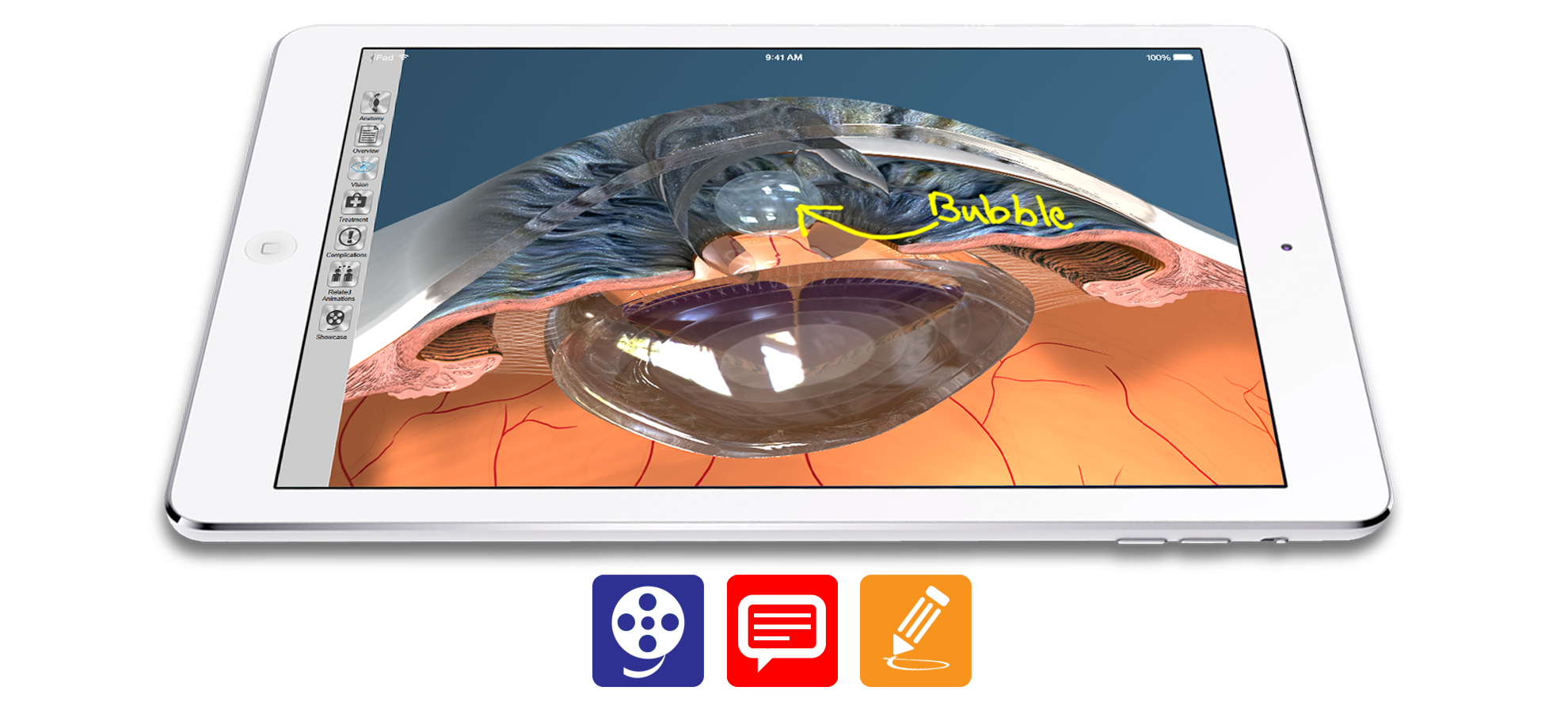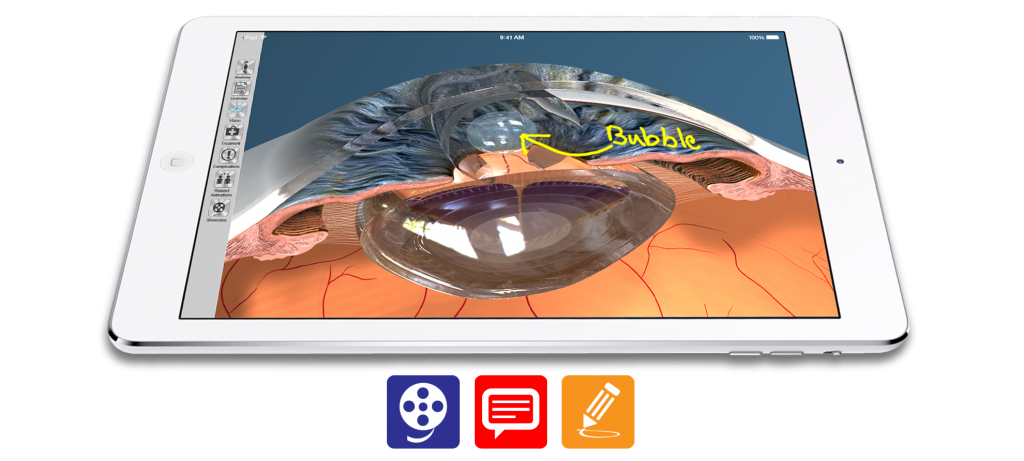 We've got hours of stunning 3D animations within one single application that you can install on multiple PCs or iPads.  With simple controls that allow you to communicate in a way that's second nature to you.  You can either Showcase an animation or use the Dynamic Toolbar  to show animation snippets.  Showcasing animations is perfect when you want to write-up medical notes and allow the patient to learn about his or her eye condition.  Animations can be played with voiceover and captions in 15 languages  (additional languages available at extra cost).  Alternatively, if you want to lead the discussion, use the Dynamic Toolbar.  Here, you can show short snippets of animations to address specific points. Remember, if you want to emphasise any point you can draw over the video at any time!
at-home
Share animations to show you care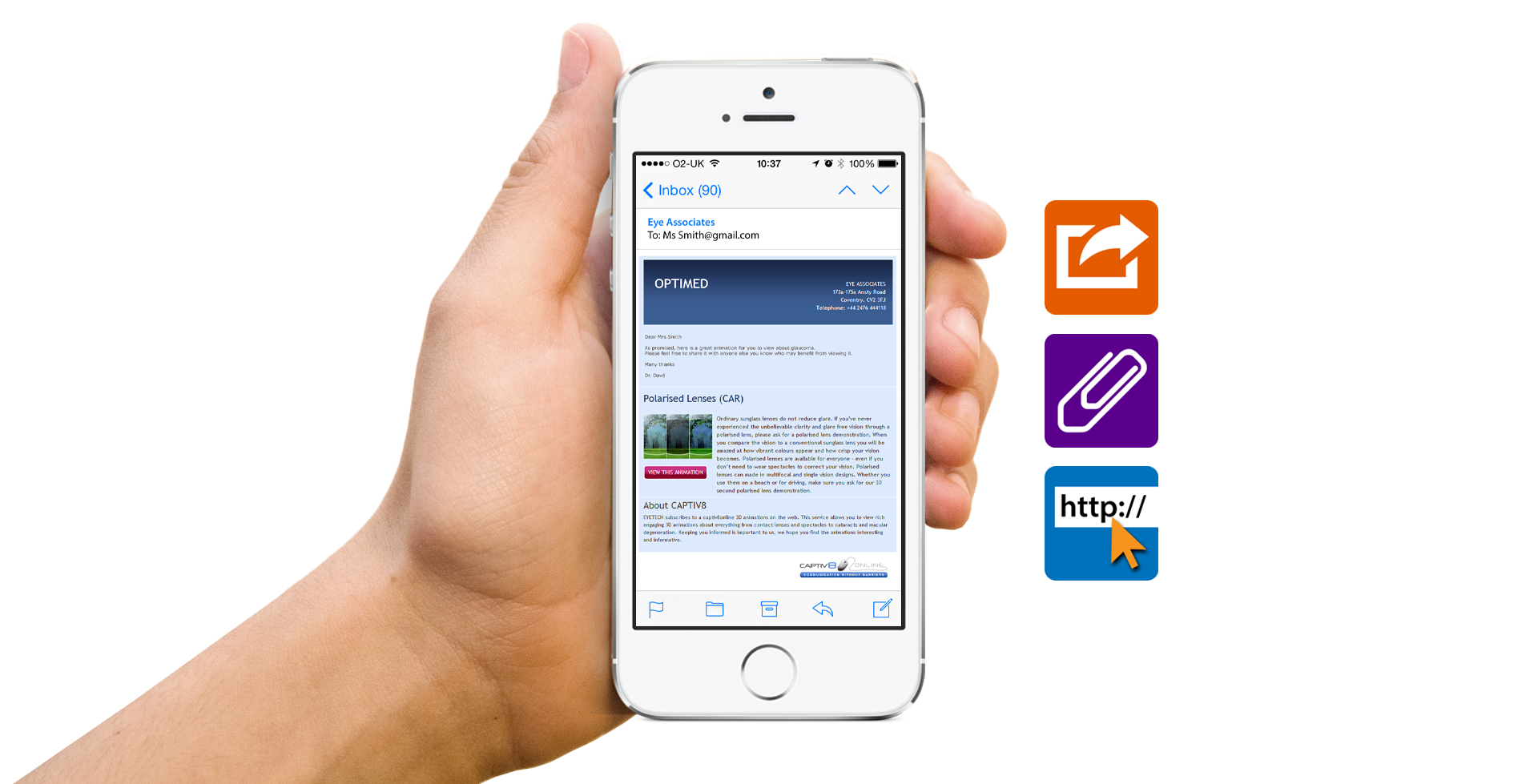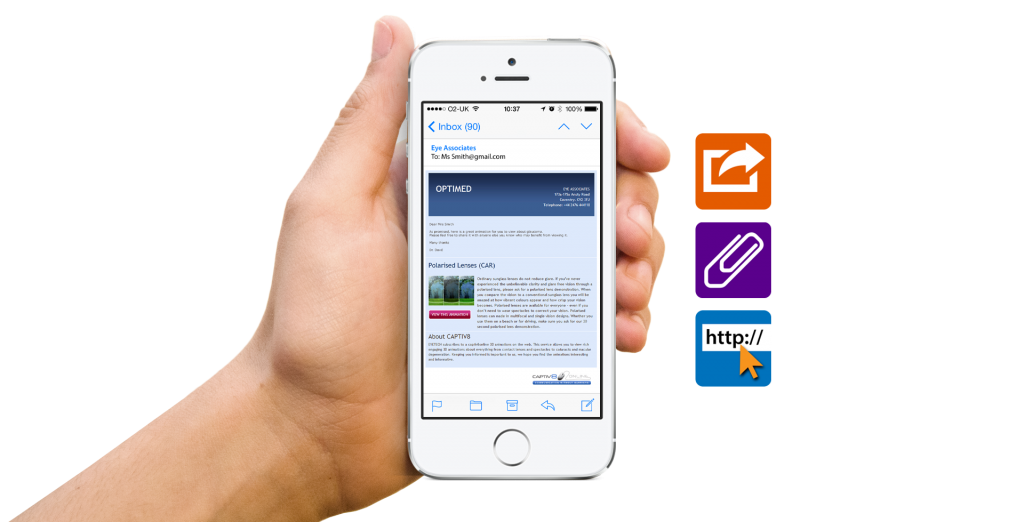 Share animations pre-appointment or immediately after a consultation so patients can view them online.  CAPTIV8's share functionality built directly into the program – so there's no need for any other email software.

Attach documents such as reports, images or pdf's with any email you share.  You can even send large files from your Dropbox folder!

Branded website.  When patients click the link in the shared email, they view the animations on a web page that is branded with your logo and contact details.  You can even customize the colour of the web page!
peer-to-peer
Turn your patients into powerful promotors of your practice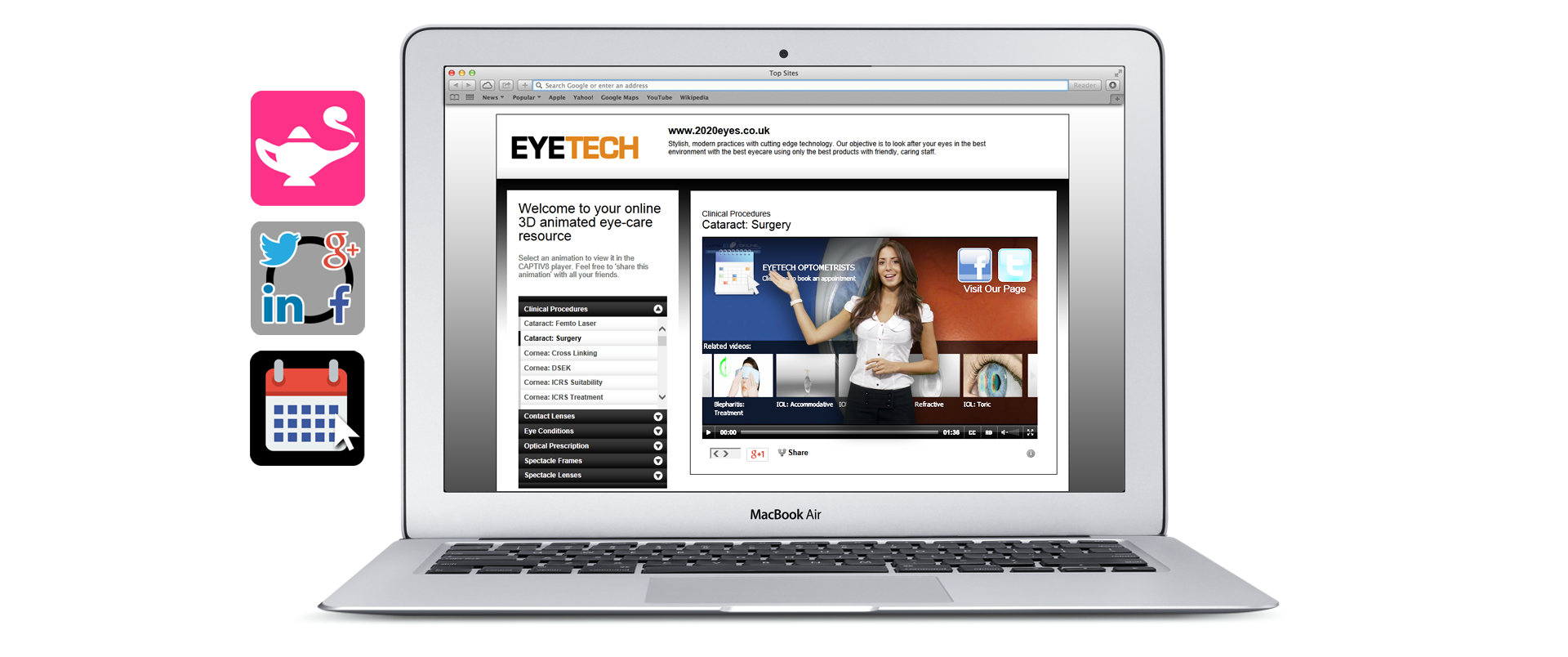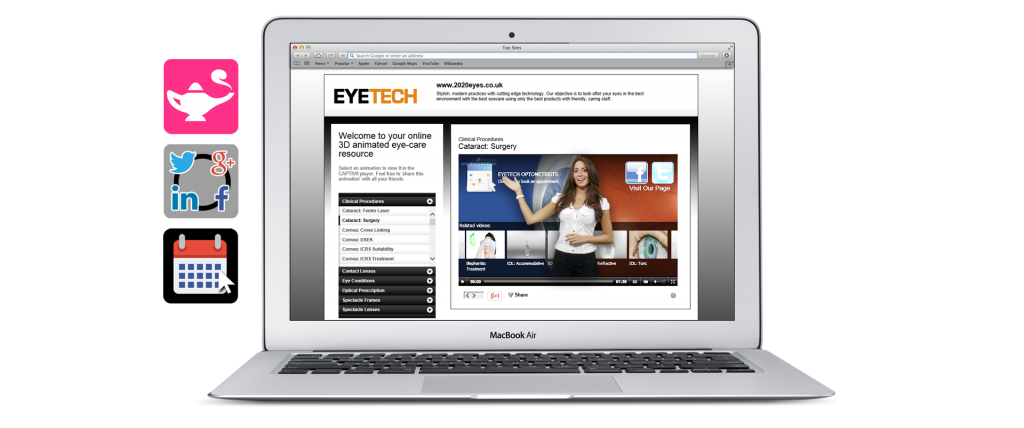 Web Genie
prompts patients to share your content with their friends and family.   The web genie appears the first time a patient views the animation and is available in all of the languages we support.

Social Media
 integration within CAPTIV8 is a simple and quick way patients can promote your business.  Within a few clicks they can post links to your CAPTIV8 patient education website, thereby recommending your business.

Appointments
allows you to close the loop in patient recommendations – after all, what's the point in driving recommendations to your CAPTIV8 website if patients simply watch content!  The appointment feature allows new visitors to request an appointment with your specific practice.
waiting area
Attention grabbing content – to entertain and engage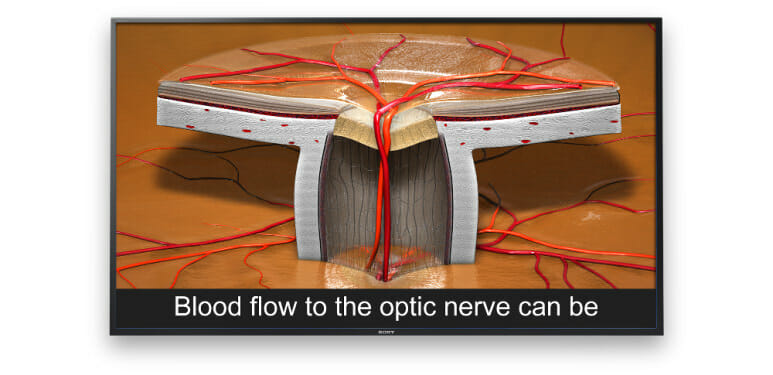 beautiful content
Add beautiful patient education animations to your waiting area, static images and even your own videos to a playlist.  It's a great way of promoting products and services to generate interest.  All the content is stored on your practice PC so there's no dependency on the internet for playback.
simple & intuitive
A simple drag and drop media centre allows you to easily create playlists.  You can even create multiple playlists and play them on specific days or even specific times to maximise the relevance of information to your patients.
'push technology'
The CAPTIV8 media centre is available online.  Create playlists from anywhere and push them to your waiting area PC remotely!  It's a big advantage if don't get time when you're in practice or if you have more than one practice location because you can publish and deploy your playlists without having to go to your practice.

Pretty Much Includes Everything!



Install on up to 10 devices (you can purchase additional activations keys if you need to when you sign-up or even during your subscription). Devices includes PCs and iPads. CAPTIV8 is compatible from XP upwards and on iPad2 and above.

Unlimited users! Each user can be assigned a variety to roles to grant access to varies parts of the CAPTIV8 platform. The settings of individual users can be customized through the CAPTIV8 management console.

The standard CAPTIV8 license allows you to install the software on 10 devices in up to 3 practices. A minimum of 3 activation keys must be assigned to any given practice. Each practice will have its very own CAPTIV8 branded website where patients can view and share animations.

If you have your own company website you can also embed CAPTIV8 animations on as many pages of your website as you wish. CAPTIV8 animations are compatible with PCs, MACS, Tablets and most mobile devices.

During your subscription period you will receive all new animation and product development updates. Furthermore, all animations are provided with voiceover and captions in English. If you're in USA you will receive American and Spanish, If you're in Canada then voiceovers and captions will be American and French.

You'll never be out of date as CAPTIV8 subscriptions include all technical support and all new animations and product updates.
TESTIMONIALS
Professor Sunil Shah, Consultant Ophthalmic Surgeon, UK

I believe that CAPTIV8 offers a complete patient communication system with the options of discussing procedures with patients myself, sending them the information we have discussed, and marketing my practice in the waiting room and online. I believe that this software has enhanced my interaction with patients, and they receive a much fuller understanding of ophthalmic procedures.

Nicholas Rumney, Managing Director, BBR Optometry, UK

Great media content that helps to reinforce messages presented by our staff.

Mr Mohammed Muhtaseb, Consultant Ophthalmic Surgeon, UK

I have been using CAPTIV8 for a couple of years and it has become an integral component of my consultations. The animations contain an ideal level of detail for my patients without being too graphic. The interactive nature of the software allows me to add information that I feel is relevant to any individual discussion, and the ability to share animations with patients is a great benefit to all. The broad and ever-growing range of animations means that CAPTIV8 can be used in a wide variety of clinical consultations. CAPTIV8 has been a very positive addition to my practice.

Nigel Robinson, Director, Robinsons Optometrists, UK

Many thanks for your truly professional service…We find the system very easy to use, the graphics are excellent and the patient feedback has been very positive…

Jagrut Lallu, Director, Visique Rose Optometrists, New Zealand

Optimed & Device Technologies have provided webinars, one on one support and fast efficient service. We have only had the software for 3 months but this has already had a positive effect from all patients that have been sent animations. We have previously used another product for patient education and have found that the quality of the animations is superior as well as the flow within the software in our examination rooms. Patients are now referring others in and recommending us which supports our goals of building word of mouth referral.

Brian Tompkins, Director, TKS Optometry, UK

CAPTIV8 is one of our best educational tools that we could possibly have both within the practice and within the patient's home.  We show phenomenally crisp, clear animations of exactly their eye condition or visual care, such as contact lenses etc.  Better still, we can share animations.  CAPTIV8 is very useful for marketing.
As Featured In