CAPTIV8 Share Partner Programme
Work with your key customers and help them promote your cutting-edge vision-care solutions
A fabulous app for Ophthalmologists and Optometrists that allows clinicians to provide better patient education and save time explaining treatments, eye conditions as well as vision correction options.  The app has over 150 beautifully crafted 3D animations (in a choice of 10 languages).   CAPTIV8 Share solves 3 key key unmet needs.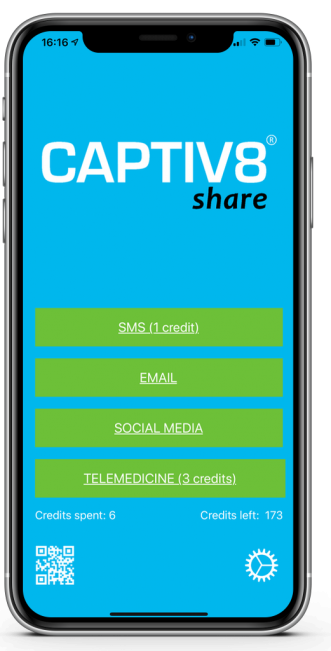 Whatever your vision-care solution, ultimately you rely on the eye-care professional (ECP) to communicate key benefits to the patient.  You may provide media resources, leaflets or even apps to assist the ECP in educating the patient so they can make an informed choice.  Unfortunately, you and many other companies do exactly the same – leaving the ECP with multiple files, folders and apps which rarely get used in the course of their day.  In essence, the message doesn't get through to the patient.
What's the Partner Programme?
Provide your customers with credits to share any number of animations within our vast library of content.  The ECP can purchase their own credits at any time within the app.  Because ECPs have all their communication media in a centralised app, it's simple, familiar and used frequently.
Scalable
We've made the process totally streamlined for Partners.  We provide you with a QR Code with specific numbers of 'Share Credits' and usage limits.  Partners simply need to send this code and a link to the CAPTIV8 Share app (on the App Store or Play Store) in an email campaign.
Your customers then scan the code using their mobile camera within the CAPTIV8 Share app.  We don't take any credit card details from the customer, they just register with their name and email.
Clinicians can share one or more animations by SMS or email.  It takes seconds and patients a amazed by the efficiency of clinician in delivering patient-focussed information post-appointment.
Patients receive branded emails with the practitioners logo and when viewed online the animation is viewed with the clinician's profile picture and a map of the location of the clinic.
Upload the clinic logo, profile picture of the doctor straight inside the app.  CAPTIV8 Share promotes the clinician and the clinic.
Health Compliant Telemedicine
The global pandemic has affect the way clinicians work.  It's now about getting patients into clinic for procedures and necessary appointments.  As a result, more clinicians are needing to triage patients using telemedicine solutions.
CAPTIV8 Share uses Advanced Encryption Standard (AES) and video streams are encrypted end-to-end (E2E) using WebRTC security protocols.  Meetings are also restricted to only the clinician and patient.